IT Security: How to Encrypt a Removable Device
Updated: 24 July 2020 02:35 PM
Removable media can offer a convenient and secure (offline) method for transferring files. However, the potential for sensitive data to be lost or stolen is a significant risk and it is a requirement to ensure compliance that any confidential classified data be appropriately labelled and encrypted.
Windows Instructions:
To enable BitLocker encryption on a USB flash drive, perform the following steps:
1. Insert and browse to the USB flash drive.
2. Right-­click the USB flash drive or external hard drive, and then click on Turn on Bitlocker…
3. On the Choose how you want to unlock this drive window, choose Use a password to unlock the drive.
This option prompts the user for a password to unlock the drive. Passwords allow a drive to be unlocked in any location and to be shared with other people.
4. The final step is to ensure that you have recovery method in the event that the unlock password is forgotten.
It is recommended to choose *both* the Save to your cloud domain account and Print the recovery key (save as PDF and store it in OneDrive).
Mac Instructions
This guide applies to encrypting a flash drive on macOS El Capitan and Sierra using the built in encryption tool known as FileVault.
Drives encrypted with FileVault CANNOT be opened by Windows.

The password you choose to protect your USB flash drive CANNOT be changed once it is configured.
Follow the steps below to encrypt a USB flash drive using macOS.
Insert your USB flash drive into your Mac.

When the icon appears on your desktop, right click on it and select

Encrypt

.



You will then need to enter and confirm a password (as well as a password hint). This password

CANNOT

be changed.

Encryption should only take a few minutes; once complete, you USB flash drive will be fully protected.
How to use your newly encrypted USB flash drive
To securely use your encrypted USB flash drive, simply plug it into your computer. You will be prompted to enter the password you used to encrypt your drive.
Your macOS computer will automatically manage encrypting and decrypting your information while it is plugged in to your computer. When you are done working on your data, simply unplug it from your computer.
How to disable encryption
If you no longer wish to utilize encryption on your USB flash drive, you can permanently disable it. This action will remove the encryption and allow you to use the drive on computers that do not support FileFault, and will permanently stop securing the data on your USB Flash Drive.
To disable encryption, right-click on the drive in Finder and select Decrypt.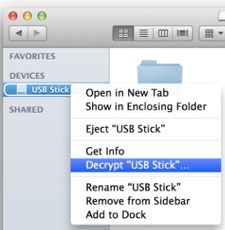 You will be prompted for your encryption password. Once you confirm your action, macOS will remove encryption from the USB flash drive; this action will take some time. Once complete, you can remove your USB flash drive and use it normally without restriction.
---